The One Love Manchester concert was a unique event, in that the crowd had as much star presence as any of the formidable talents that took the stage. The warmth and fortitude of that community in the face of atrocity was caught by the cameras, to the credit of broadcaster BBC One. That an event of this scale was pulled together in a matter of weeks was an impressive feat, and spoke highly of driving force Ariana Grande and her management team, led by Scooter Braun.
The performances themselves had an intimate, uncanned quality that made for a powerful show that seemed to connect with the audience, which appeared quite engaged, singing along and visibly moved to tears, as were some of the artists.
Highlight performances were Coldplay, Katy Perry and Justin Bieber the highlights, in that order. Ariana Grande has amazing pipes and did a great job unifying the event with her multiple appearances and duets. Her demure outfit of jeans, a variety of Manchester sweatshirts and short boots had a casual feel that made the whole thing feel like — as Miley Cyrus suggested — the whole thing was pulled together for friends in her backyard.
The young lady deserves a lot of credit. She could have just gone about her business and left Manchester in the rear view mirror. Instead she and her colleagues raised more than $2.6 million for victims of the May 22 suicide bomber attack that left 22 dead and 116 wounded as they exited her concert in the city.
Bieber, performing an acoustic set, including "Love Yourself," which had the crowd singing along. He was understated and charming, offering a soliloquy on love triumphing over hate. Stevie Wonder offered his thoughts on the subject, beaming in via video with an abbreviated version of his "Love's in Need of Love Today."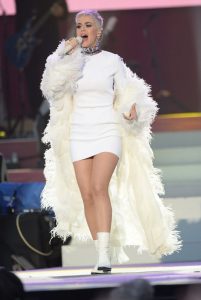 Katy Perry dazzled with an emotional acoustic performances of "Part of Me" that segued into a crowd-rousing rendition of "Roar." The performance was rock-star solid, as she strode the stage, refracting light from every angle — from her long white feathered coat to white dress and white boots. It was a fashion moment and impossible to take your eyes off her. When she removed the coat, a cutout heart in the back of her dress revealed an undergarment imprinted with photos of the 22 Manchester victims, also visible at her cuffs and neck.
Coldplay was the high point of the evening, their soaring, epic tunes made for large outdoor venues. The fact that they only performed three songs allowed them to over-deliver on all three. They opened with a cover from one of Manchester's homegrown talent, Oasis, "Don't Look Back in Anger."
Grande joined them onstage for the acoustic rendition, and frontman Steve Martin praised her bravery and said, "You've been singing a lot tonight, so now we in Britain want to sing for you." As with many of the songs, the lyrics were displayed on the large stage screens, and the crowd joyously chimed in. They then segued to high-energy electric versions of "Viva La Vida" and "Fix You."
Former Oasis lead singer Liam Gallagher had a thankless task taking the stage after that, and while Martin joined him, backing on guitar, his lesser known tunes and seemed a comedown in the wake of Coldplay.
Grande closed the show with "One Last Time," and a rendition of "Somewhere Over the Rainbow." It was a triumphant night for her, and for the people of Manchester. In an age when hate all too often commands the airwaves, it was inspiring to see this outpouring of love blasted around the world.